We shouldn't take the humble bench for granted – whether they're offering rest and respite, bringing people closer together, or just easing your waiting time, thousands upon thousands of benches are providing faithful service up and down the country.
Given that a large majority of them are outdoors and exposed to the elements all year round, it makes sense to utilise a material that is both highly durable and sustainable. That's exactly where our range of recycled plastic benches comes in.
Our recycled plastic benches are made from waste material produced by the farming community, such as bale wrapping, crates and packaging, so our products are actively diverting waste away from landfill.
Furthermore, our benches will never need maintenance or any kind or treatment, so they will last for years without losing their classic good looks. Our recycled plastic benches are perfect for parklands, nature trails, schools, council buildings, and anywhere else that requires seating with clean style and robust functionality.
The Harewood
We have a range of recycled plastic benches to suit a variety of locations, and the Harewood is one of our most popular and versatile products. A stylish, moulded-end recycled plastic bench with backrest, the Harewood is a firm favourite of many sports clubs around the country.
Balcombe Cricket Club in Sussex was recently looking to replace its worn wooden benches and – after receiving funding from the ECB County Grant Scheme – ordered several of our products, including a set of ten Harewood benches. As you can see from the pics, the staff at the club recruited some pretty discerning help for the assembly!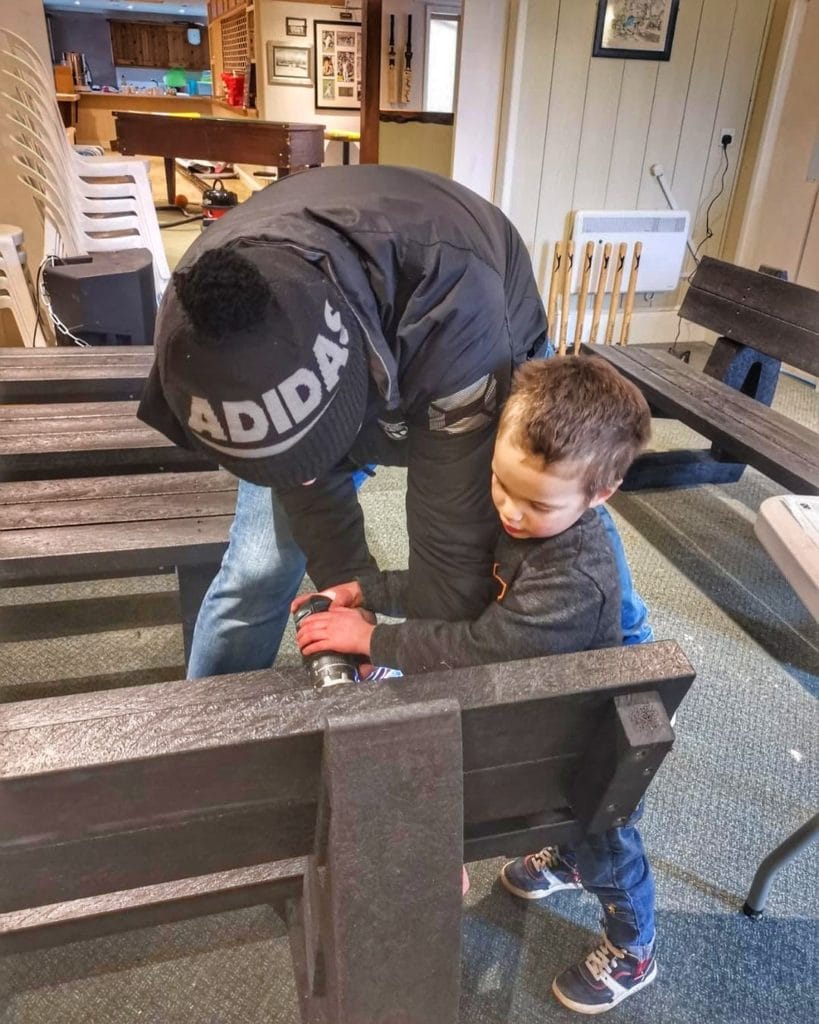 Adrian from Balcombe Cricket Club told us: "We are replacing all of our worn wooden benches with fantastic brand new plastic benches, which the ECB County Grant Scheme has massively helped with. Having benches that will last over 25+ years and being maintenance-free was a big incentive for the club to look for plastic instead of replacing with wood.
"We looked around on the internet for different companies but British Recycled Plastic had the most appealing benches on offer and offered very good lead times for us to get them ready for the new season.
"We can't wait to finish building them and get them outside ready for our members and visitors to make full use of them."
The team at the club have since finished building the benches, and they sent us these pics showing them in all their glory.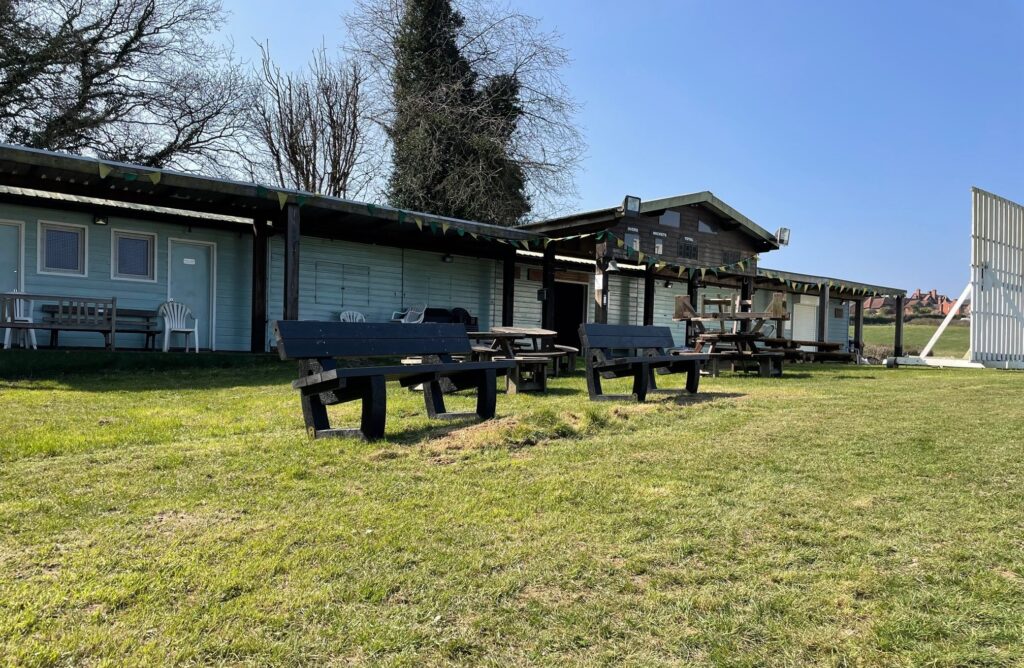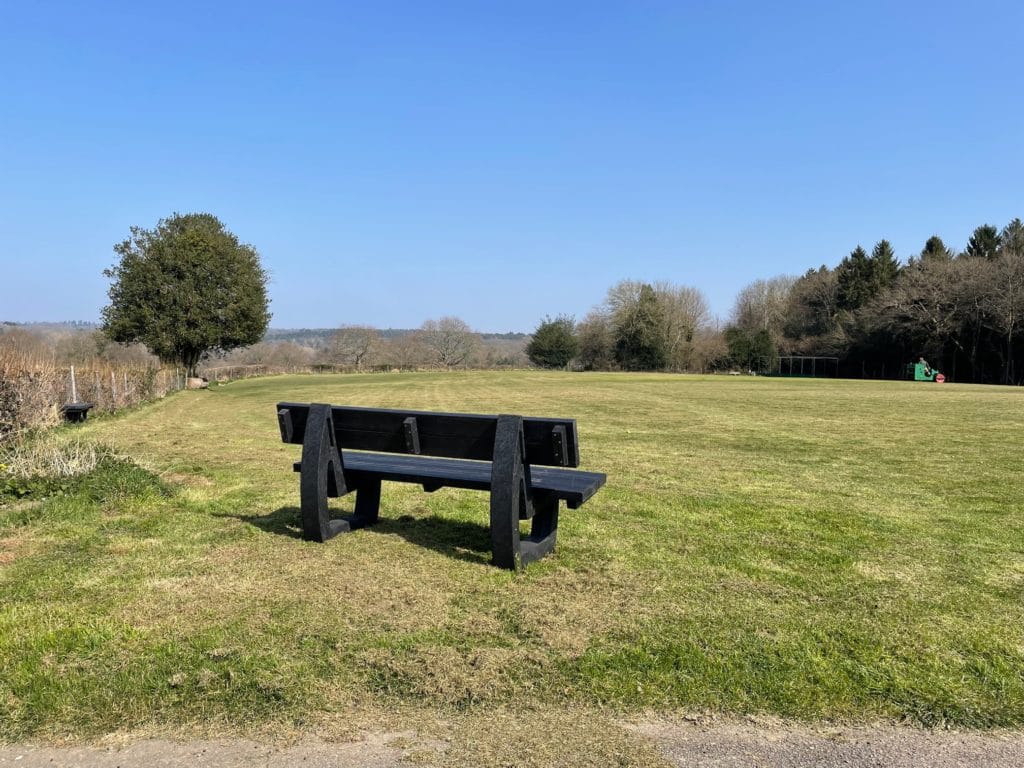 Other cricket clubs that have installed our plastic benches to beautiful effect include Ribblesdale Wanderers, Whalley Cricket Club and Clitheroe Cricket Club. Something about the Harewood's classic aesthetic lends itself perfectly to the cricket green, we think you'll agree.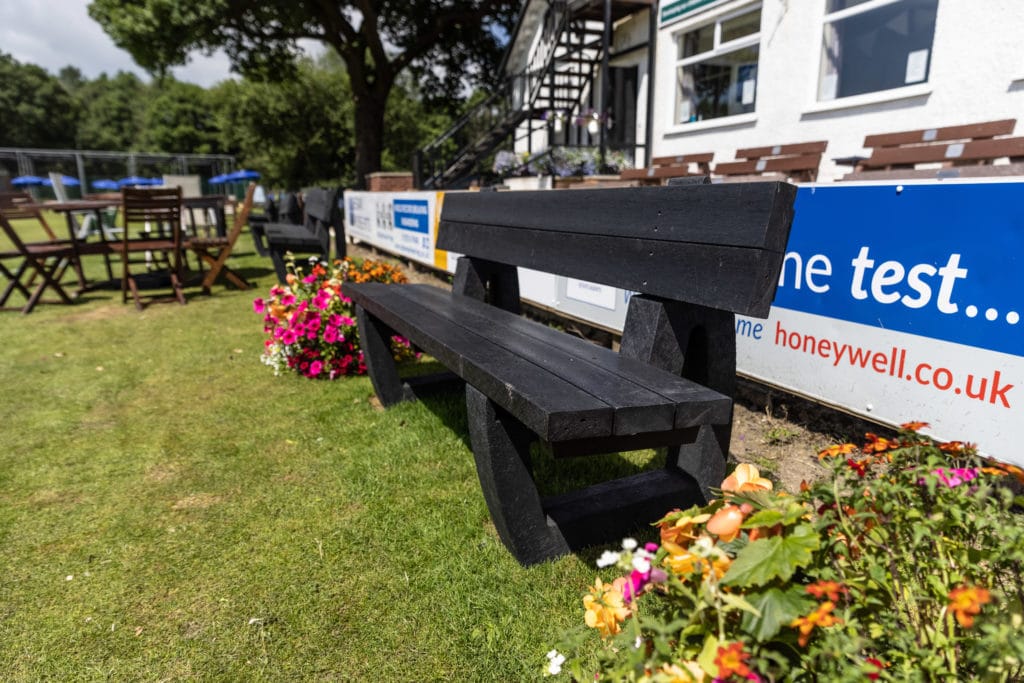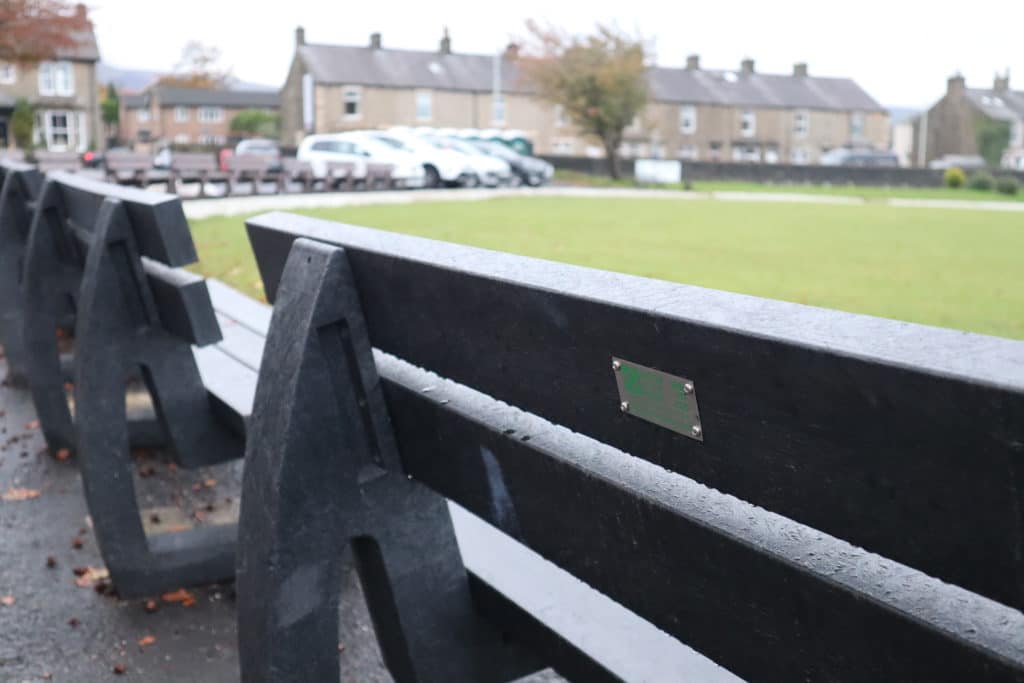 Recycled plastic benches for schools
The Harewood is also an excellent choice for schools looking to install new furniture or upgrade older benches. Dartford Grammar School in Kent came to us when it was looking to replace its concrete and wooden seating with recycled plastic benches.
Paul Drake, Business Manager at Dartford Grammar, explained: "The school takes a strong stance on reducing our plastic use, so when we discovered there was a way to reuse waste plastic whilst updating our playground seating we jumped at the chance. These new Harewood benches are a great replacement for our old concrete and wood seats, which are now crumbling after years of weathering."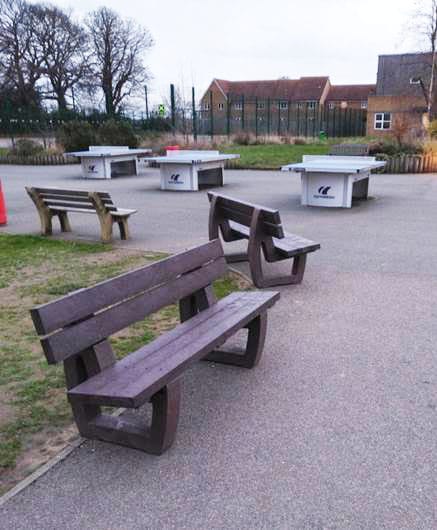 Recycled plastic benches in the wild
We're always happy to see our benches out in green spaces and nature reserves, so we were glad to get involved with The Platt's Wood Project in Derbyshire.
Remember what we said about our recycled plastic being impervious to all kinds of weather? As if to illustrate that, the community group ordered five Harewood benches and assembled them in some pretty challenging conditions.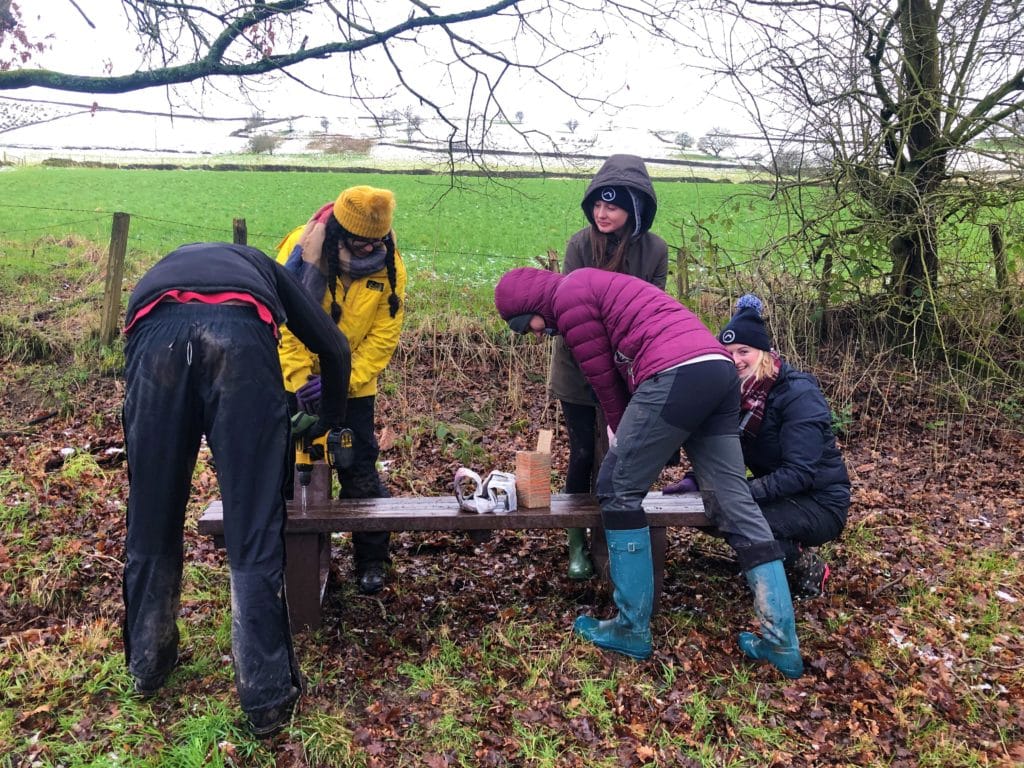 The group installed the benches despite the terrible weather, and they'll be glad to know that the benches will need no further treatment or maintenance in future. Once in situ, our products will retain their looks and last for decades to come amid any conditions.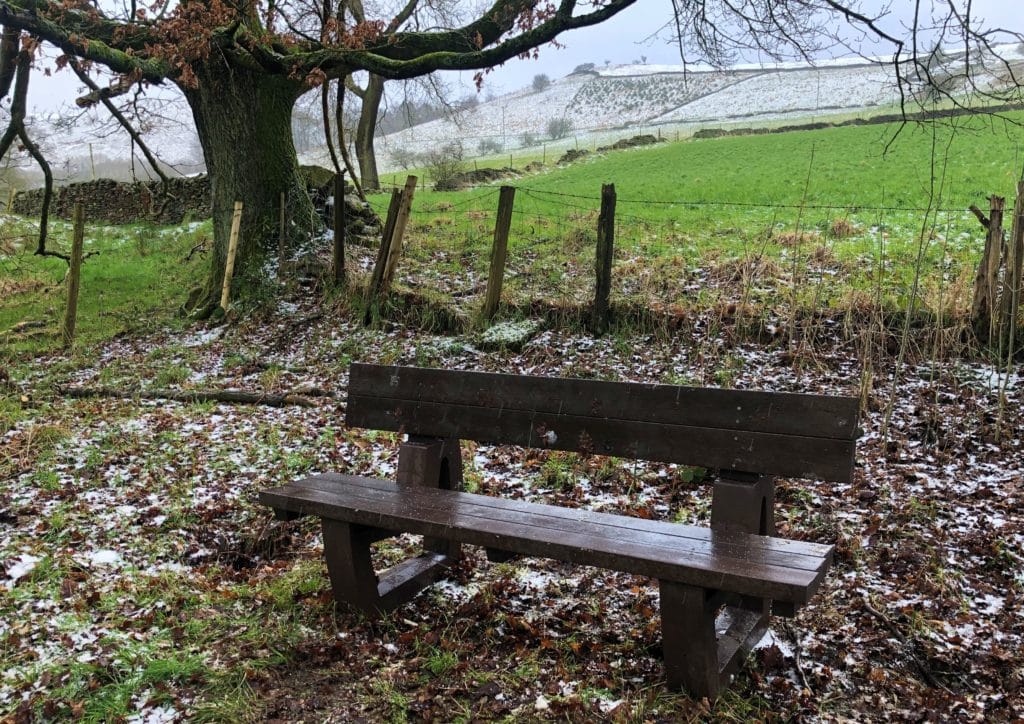 Cari Holmes, from The Platt's Wood Project, said: "We bought five of your benches last year for our community project The Platt's Wood Project in Hayfield, Derbyshire and last week we put up the last one with the help of a group of volunteers.
"We had a great time putting them together, and it seemed everyone got a lot from the day. We love the benches, they are perfect for our needs and look great on site!"
The Skipton
The Skipton bench is an elegant, slatted bench without a backrest, a popular choice for playgrounds, changing rooms or green spaces. A classic design with slats laid edge-on, it also reduces sitting water, so there'll be no soggy bottoms in tow. Its sibling – the Skipton Curve – can be used where straight lines won't work or to create horseshoe-shaped seating.
When the Friends of Marconi Ponds Nature Reserve decided to upgrade its footpaths with some new seating, the group asked asked Lyn McLay-Kidd at Chelmsford City Council for some help. Lyn contacted us for several benches, including Skipton Curves, to place around their beautiful woods.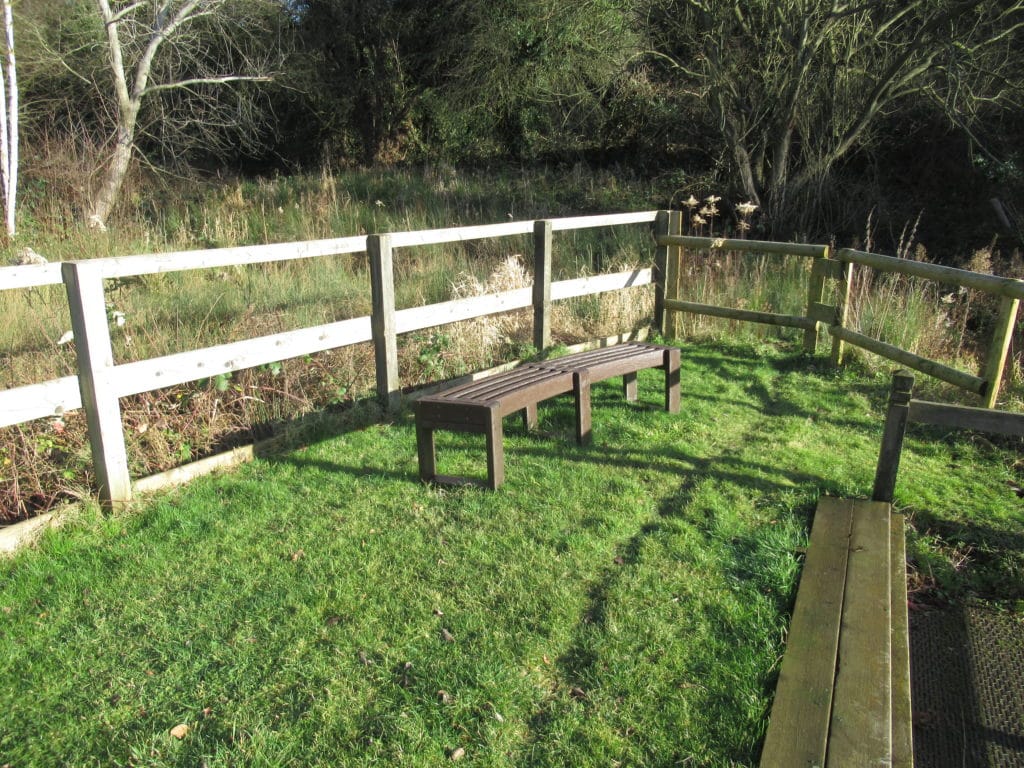 Graeme Jefferies of the Friends had this to say about the experience with BRP: "We as the friends group for the site took delivery and assembled the benches and placed them in the appropriate areas.
"The benches arrived in good condition and were easy to build as long as you read the instructions. (men always forget to read instructions). They are nice and sturdy and the ground fitting kit worked well. We hopefully will be able to purchase a couple more in the near future."
Rastrick High School used several of our benches – including fifteen Skiptons – as part of its innovative canopy build, which has gone down a treat with staff and pupils alike.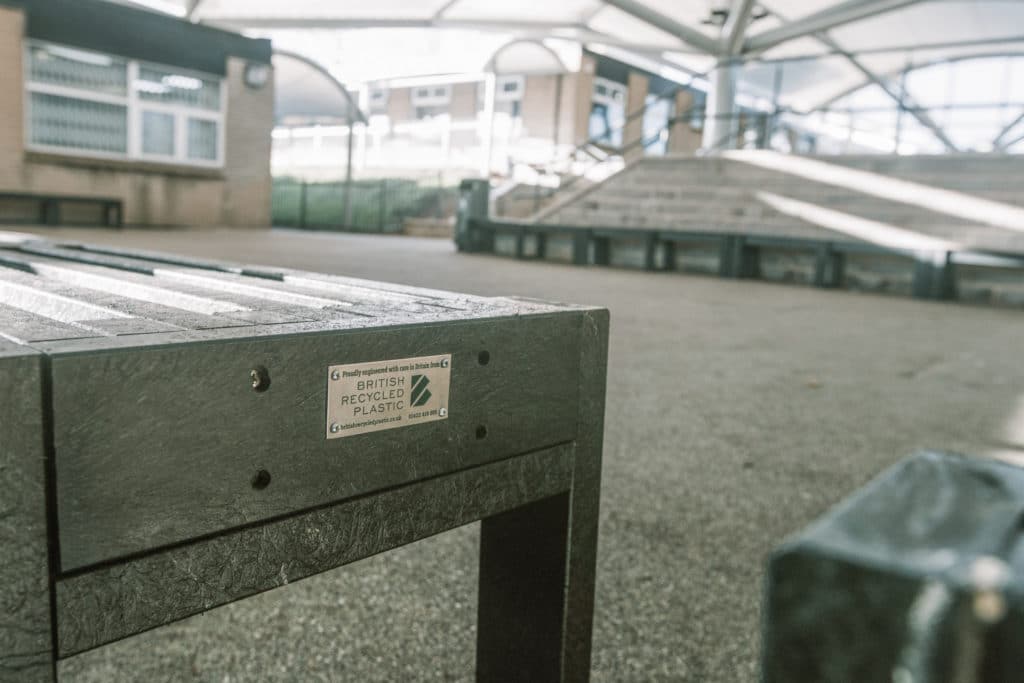 Shirley Graham, Site Manager at Rastrick High School, told us: "We're a very environmentally conscious school, and always keen to invest in our site and the environment. Our canopy area has been a big hit with the students since being added last year.
"We first used products from British Recycled Plastic around fifteen years ago, and they are as good now as the day we purchased them. It made sense for us to use more of the company's furniture for the canopy-covered area. Using recycled plastic is a great way to increase our pupils' awareness about waste reduction and sustainability."
The Oakworth
The Oakworth is a stylish, moulded-end recycled plastic bench without backrest – already seen in countless parklands and playgrounds around the UK. If you want to keep it simple, practical and budget-friendly, the Oakworth is an excellent choice.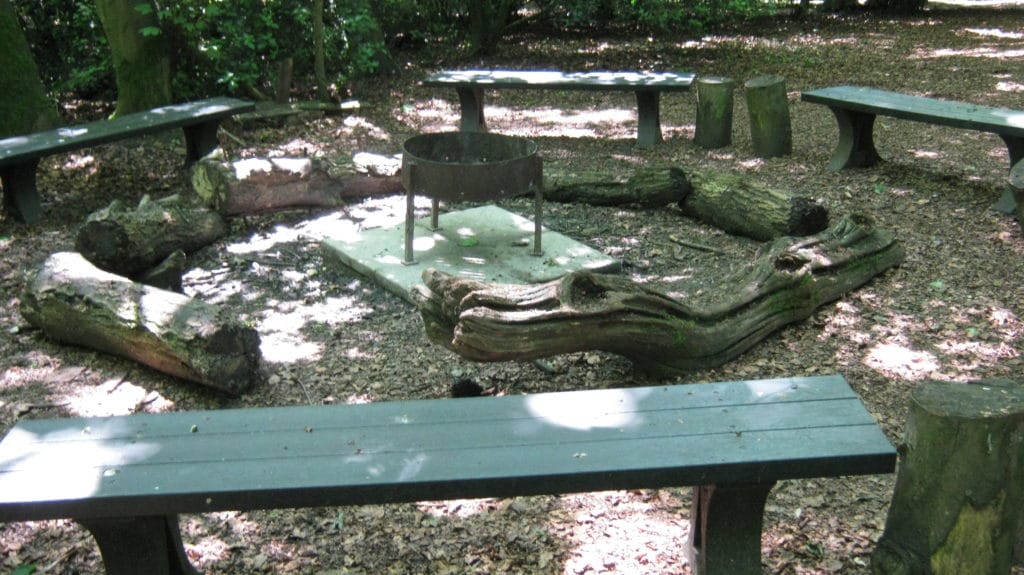 The Ilkley Sloper
A British classic and staple of parks and patios across the country, the Ilkley Sloper is a traditional design that comfortably seats three adults. With its high, sloping backrest and sturdy arms, it's also a great choice for users who may need a little extra support when moving between standing and sitting.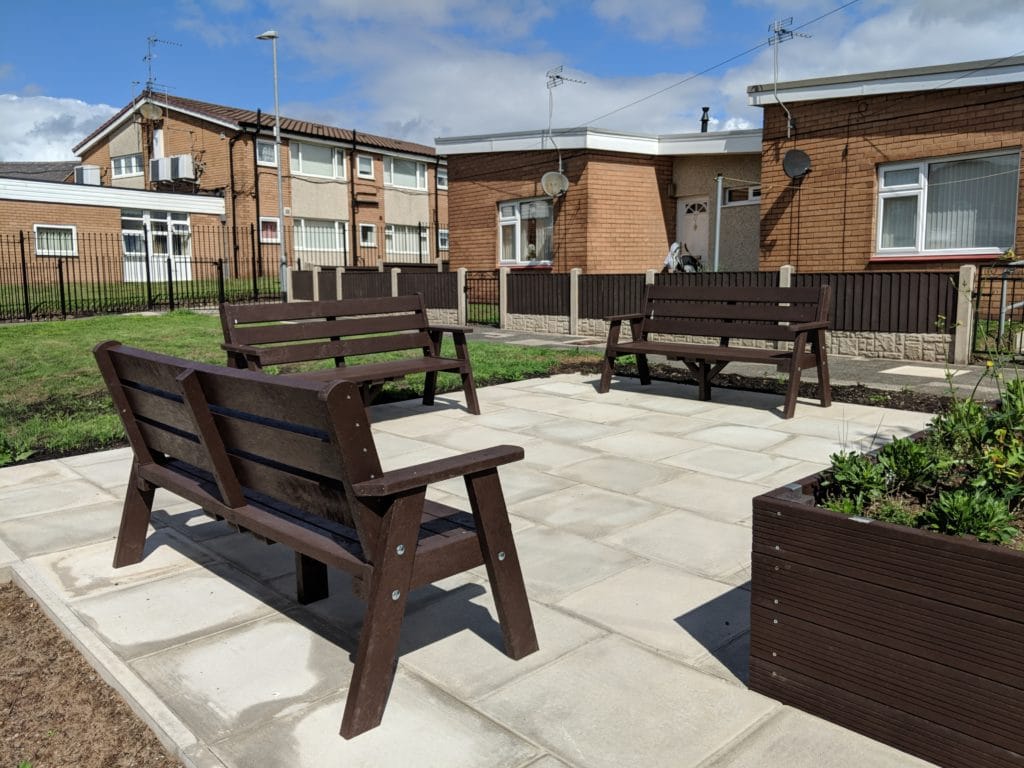 A question of colour
While our benches look great in classic black or brown, there's no reason why they can't bring a dash of colour to your chosen site. All of our benches are available in a range of colours to brighten up the surroundings – check out the Skipton benches at Mayfield Primary School in London.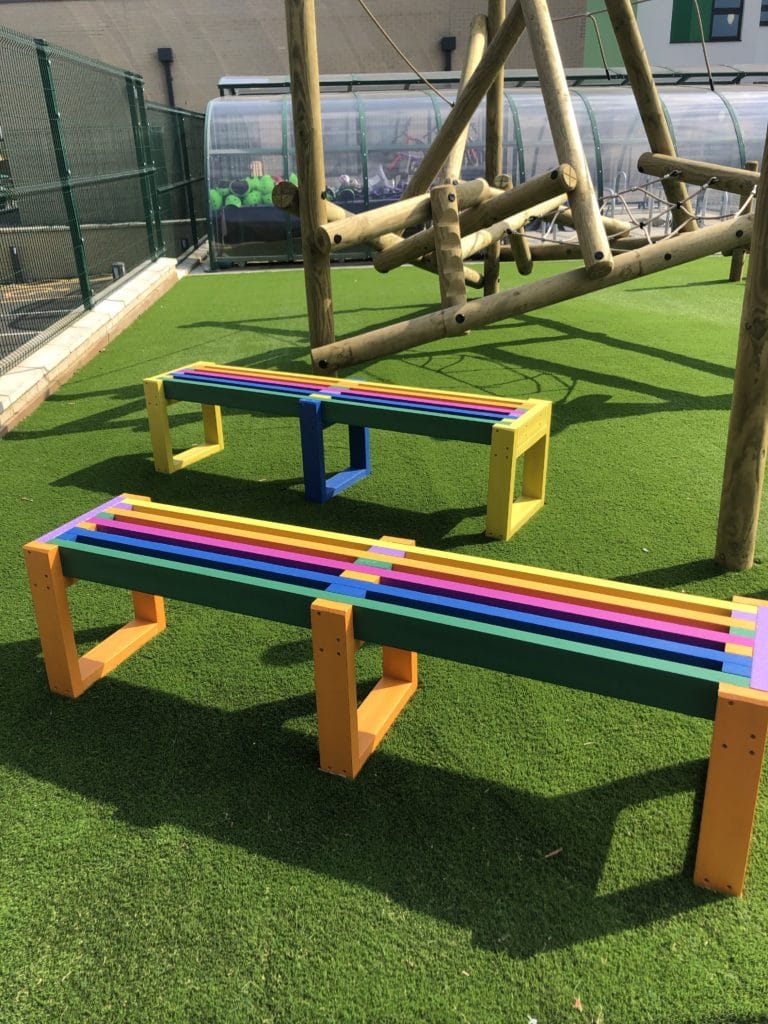 Meadowburn Primary School in Glasgow wanted the robust functionality of the Harewood bench, while also adding a splash of colour to the playground – no problem!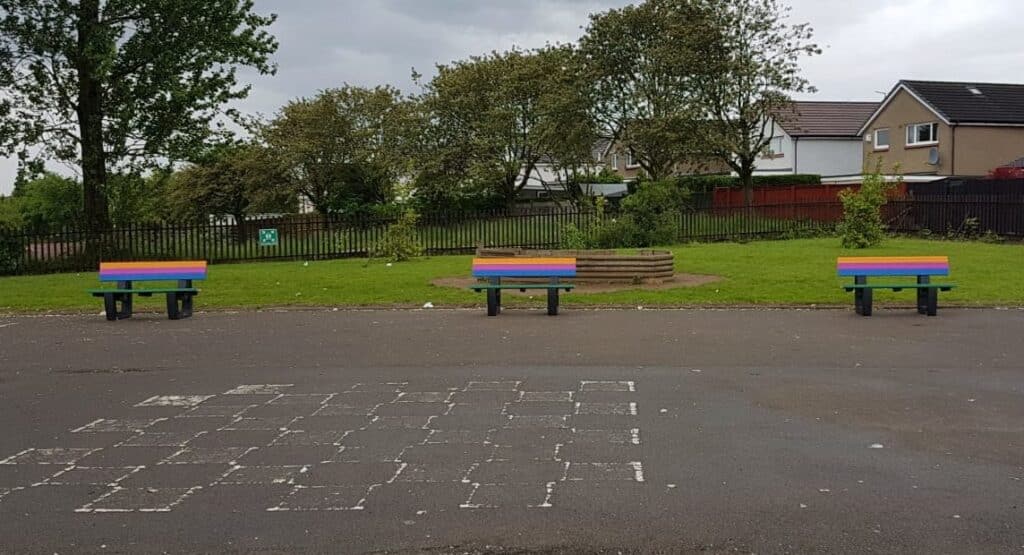 Colour choices can carry real significance, too. When the Sowood branch of the Women's Institute was making preparations for the centenary of the end of WW1, the group ordered a set of recycled plastic benches in commemorative red and black to augment four memorial walks through the quaint Yorkshire village.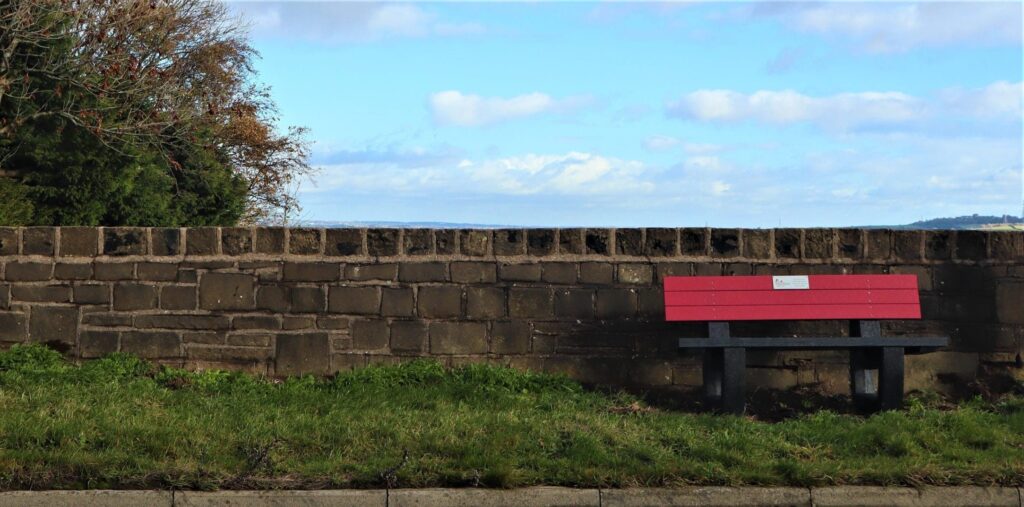 Jackie Swire, head of Sowood WI, explained: "We wanted to make sure that people of all ages would understand the significance of the Poppy Trail, and to hopefully inspire people who perhaps don't know as much about this important part of our history to go and find out more."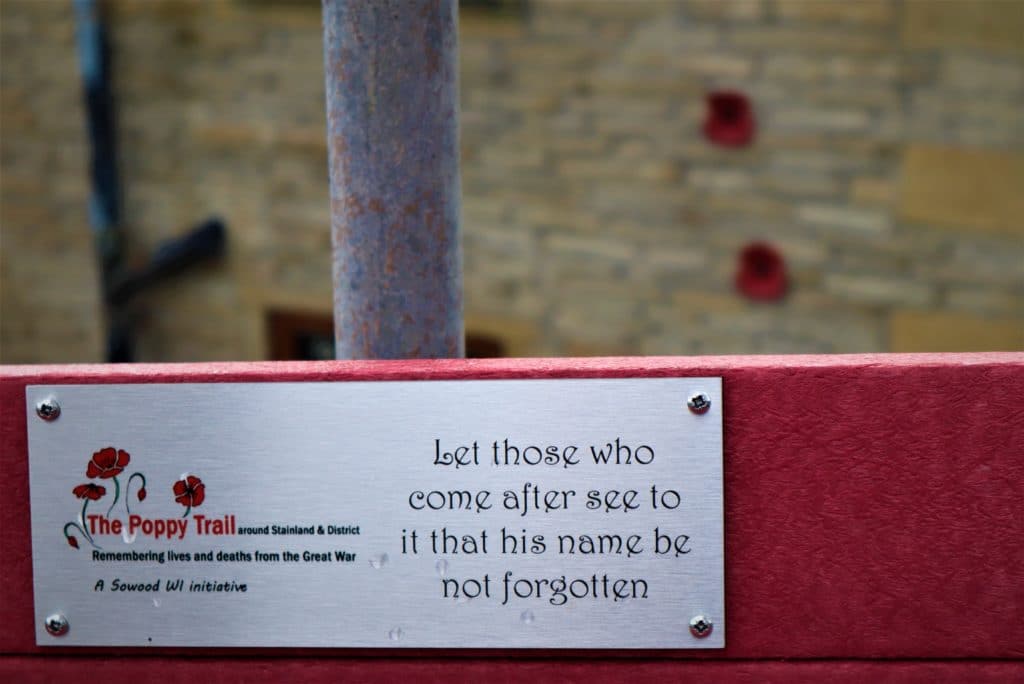 The Buddy Bench
Talking of colour, have you checked out our Buddy Bench? Based on the Harewood design, it's an engraved, multi-coloured bench that's perfect for schools and playgrounds.
The idea behind the Buddy Bench is simple: if a child feels lonely, they can go to the seat to signal that they need someone to play with or talk to. A way of reaching out without speaking out.
The last two years have been trying for everyone – not least children who may have missed out on school time and making new friends – so the Buddy Bench helps to build bridges and bring people together.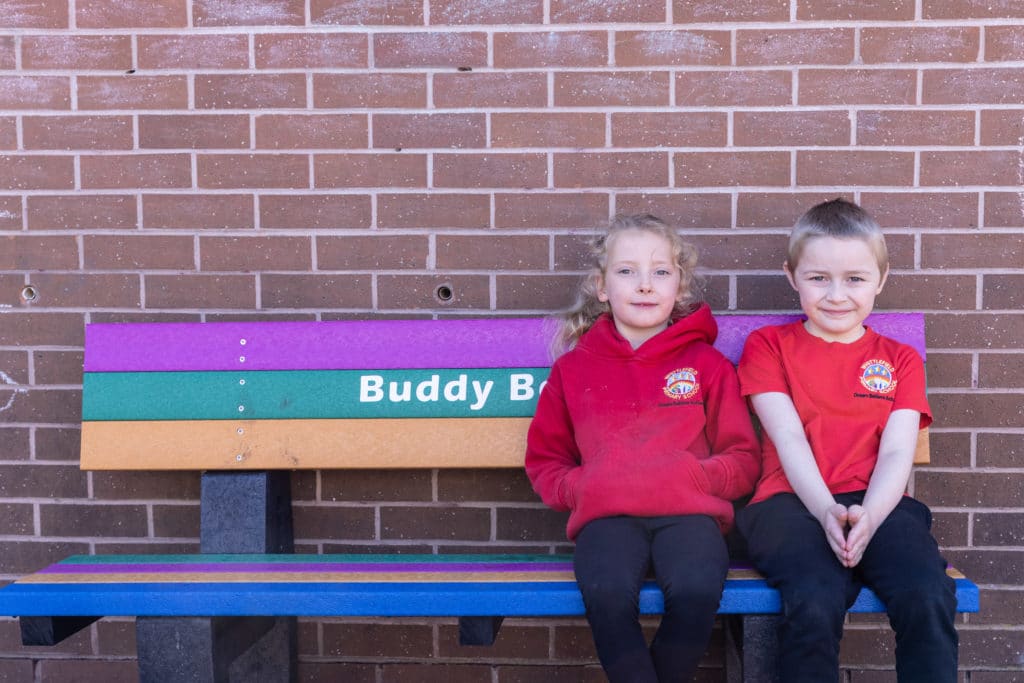 Why British Recycled Plastic?
Our products can be seen in an array of locations up and down the country, from parks and playgrounds, to council buildings and nature trails. Some of our prestigious customers include the NHS, the National Trust, the MoD, and various universities throughout the UK.
All of our recycled plastic products are not only incredibly tough and durable, but actively help to dismantle the UK's domestic waste mountain and keep plastic out of landfill.
Our recycled plastic is completely rot-proof, splinter-proof and maintenance-free and it comes with a 25-year guarantee. This means that year after year after year, it will keep its good looks and robust functionality without needing anything other than an occasional wash down. Of course, as it is chemically inert, it can be washed as often as wanted, with bleach, disinfectant or any other regular cleaning product.
Our role in the world of recycling is helping to reduce domestic waste and create products which are useful, long lasting and beautiful. Engineered from 100% British waste, our products are supplied to thousands of organisations and private homes across the UK: we believe they are the very best money can buy. We're making waste wonderful.
Visit British Recycled Plastics Webshop
Get in touch with our friendly and knowledgeable team by phone or email: 01422 419 555 [email protected]